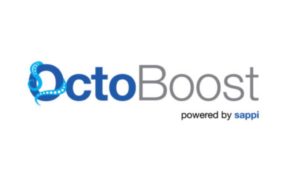 naam bedrijf: OctoBoost
contactpersoon: Anna Oñate
telefoon: 0000000000
e-mail:
careers@octoboost.com
You work in a multicultural & innovative startup providing SaaS-based digital products to the print & publishing industry.You'll be product owner of OctoBoost´s development team and responsible for the continuous growth and stability of the platform.
OctoBoost AI-driven print efficiency technology dramatically reduces print costs while increasing revenue through its Magento based web-to-print shops. Future-proof online print combined with the most powerful print efficiency technology in the industry.
On a daily basis you'll be responsible for defining the stories and prioritizing the Product Backlog to streamline the execution of program priorities while maintaining the conceptual and technical integrity of the features or components for the team.
More specifically, you will have a responsibility in the following areas:
Product Vision
Communication with stakeholders across the board, including customers, business managers, and the development team to make sure the goals are clear and the vision is aligned with business objectives.
Be the point person for the product development team, using their high-level perspective to define goals and create a vision for development projects.
Understanding and anticipating the client's needs.
Understanding of the 3rd party Roadmaps and influence them.
Manage the Product Backlog
Ordering the items in the Product Backlog to best achieve goals and missions.
Ensuring that the Product Backlog is visible, transparent, and clear to all, and shows what the Scrum Team will work on next
Ensuring the Development Team understands items in the Product Backlog to the level needed.
Clearly expressing Product Backlog items.
Prioritizing needs
Optimizing the value of the work the Development Team performs. Successfully manage the triangle of scope, budget, and time, weighing priorities according to the needs and objectives of stakeholders.
OctoBoost is a technology startup whose core mission is to develop innovative digital solutions for the print industry. OctoBoost is powered by Sappi, well in line with its commitment to improve printers´ business and ultimately make print media more efficient, attractive and sustainable.
Your Profile
 Bachelor degree in business management or equivalent experience
3+ years' experience as a Product Owner, ideally for a SaaS based E-commerce company
One or more Agile/Scrum certifications
Good team player, excellent communication skills and customer oriented
Open to change, quick learner, creative, curious & flexible
Strong passion and knowledge of technology, emerging media, automation and efficiency
Enthusiast, proactive and positive problem solver
Languages: English (Any other major western-european language would be beneficial)
Experience with working with remote teams
Willingness to travel
Experience selling or supporting SaaS
Experience with CRM, MIS or ERP platforms
Experience in e-commerce, ideally using the Magento platform
Experience in the set-up and configuration of e-commerce or CMS systems
Accurate and have feeling for numbers
WE OFFER
Being a core team member of a multicultural, dynamic & agile startup
Location in a vibrant tech hub in Amsterdam
Promising career growth prospects
Flexibility and attractive startup benefits
Bedrijfsprofiel
Online bedrijf
Solliciteren via
rechtstreeks
Start overeenkomst
na overleg
Contract
Fulltime (40 uur)